What is Multi-Factor Authentication (MFA)?
Multi-Factor Authentication (MFA), sometimes known as 2FA (2 Factor Authentication), is a security process that verifies a user's identity by requiring multiple credentials. Instead of only requiring a username and password, in order to log into a website or application, MFA requires additional information such as a link or numerical code sent to your mobile phone or email.
Why is MFA Important on LocalCoinSwap?
MFA is an important feature of our P2P exchange as it creates multiple layers of security. This enhanced security layer ensures that if a malicious actor somehow gains access to your username and password, they cannot access your LocalCoinSwap account.
On LocalCoinSwap MFA is required to login to your client-side encrypted account. When you register, MFA is set to email verification by default. This means that in order to approve a login, you must click a link sent to your email address. We recommend setting up OTP (One Time Password) mobile phone App MFA for additional security.
How to set up MFA on your mobile phone?
In order to set up MFA on your phone, you need to download and install an authenticator app. Some popular authenticator programs include Authy, Google Authenticator, and Microsoft. We suggest you try Google Authenticator and have provided links below.
Go to the

Play Store

(Android) or

App Store

(iPhone) and download the Google Authenticator app.

Launch the Google Authenticator app.
To enable MFA please follow these steps:
1. Log in to your LocalCoinSwap account.
2. Click on your Username on the top right of your screen: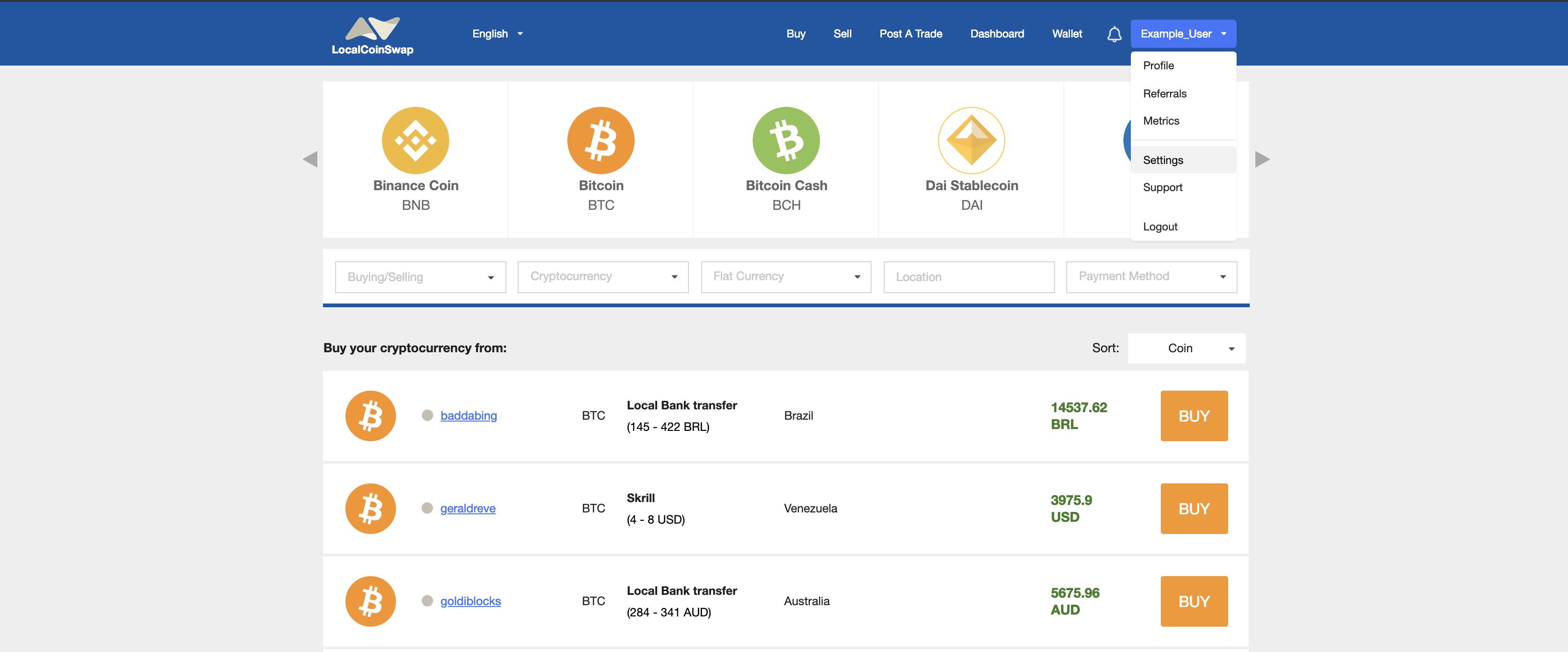 3. Click "Settings".
4. Click the "Security" tab:

5. Click "Multi-Factor Authentication:

6. Scan the QR code with your Google Authenticator app (or similar) and write down the Emergency Backup Code and keep it somewhere safe. If you cannot scan the QR code for any reason, you can enter in the Emergency Backup Code into your app as a "Provided Key":
7. Sync MFA - Enter in the code you see in your phone app into the OTP (One Time Password) box and click "Save".
Success! Your OTP-MFA is now setup. You should see the green "Enabled" box next to "Multi-Factor Authentication".